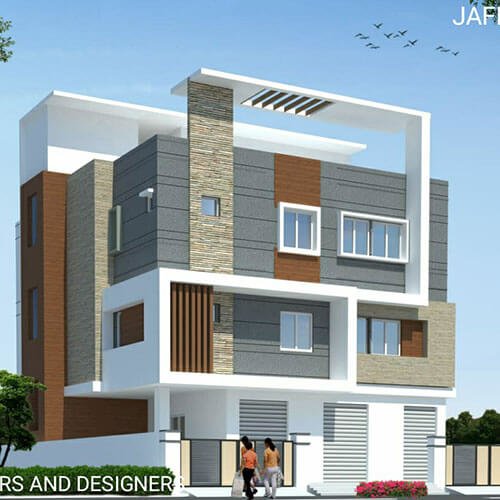 Vee Pee Vimala Encalve, Jafferkhanpet
We have planned 2 bhk flats and commercial shops in the ground floor with all necessary amenities like RO water, lift, VDP, CCTV security, solar power for common area etc.  The 2 bhk flats will come within a surprise budget of around 60 lakhs for this location.
Site Address : NO.3 GANGAIAMMAN KOVIL STREET JAFFERKHANPET
Flat 830sqft to 900sqft and Shops 331sqft to 353sqft Available
Specifications & Amenities
Foundation : R.C.C framed structured. with all the T.M.T for column ,beam, slab T.M.T Rod
Structure : Frame structure with brick work.
Flooring : Double charged Vitrified flooring in flat with 30"X30"
Common areas & steps : Natural Stone/step tiles shall be used for common area and steps
Kitchen : Granite counter with stainless steel sink. Printed tiles 16"x 10" in utility.
Area and upto a height of 2' above the kitchen counter shall be provided.
Water Facility : Bore well & Metro Water connection to each flat will be provided through OHT.
Bathroom/toilet fittings : IWC & EWC & wash basin of "hind ware or paryware " or equivalent
make in white/light. Colour in toilets. equivalent Diverter CP fittings
will be provided. 16"x10" with concealed tank printed glazed tiles in
light colour for 7'-0 feet height shall be provided.
Door frames & shutters : Main door with teak frame & teak shutter and other door frame are
made of good quality seasoned and chemically treated wood. Shutters
30mm thick flush doors.
Windows : Upvc sliding/open able windows with M.S Grills with rust proof paint.
Electrical Supply : Three phase electric supply with independent meter. Concealed wiring Using copper wiring for light and fan points.
Telephone / Television : One Telephone & TV Jack parallel each will be provided in the living room
Air Conditioning : A.C.point provision in all bedrooms
Painting : Interior Walls will be given emulsion finish & Exterior paint for Exterior
walls & Enamel Paint for Doors will be used, Main door will be varnished with teak finished or design skinned door
Pest control : Pre construction anti-Termite treatment.
Rainwater harvesting : Water will be conserved with the latest rainwater harvesting methods.
Generator/Inverter : inventor backup with power supply including for individual flat
Water facilities : R.O water purifier for each flat.
Energy saver ; Each flat with separate gas pipe with gas cylinder provision in ground floor.
General facilities : video security system facility will be provided for each Flat . solar light for common area.
Location : Ashok pillar near KFC 11 th Avenue, mofussil Bus stand to just 500mtrs, CMBT bus stand to just 5.5km, Kasi Theater to just 400mtrs , Ashok pillar Metro station to just 1.0km, West Saidpet Bus stand to just 500mtrs
Landscaping : A good and pleasing landscape in and around the building designed professional landscape architect
General maintenance : A corpus fund to be deposited by all to the association for any future
maintenance. In addition a monthly maintenance fee will be charged by the association, and a part of which will be contributed to the general maintenance of the total complex.
Other expenses : In addition to flat cost other expenses like Registration, TNEB, MWSSB, society deposit and taxes will be extra.